4
minute read
We live in a fast-paced and changing world where the ever-increasing demands on our food production systems and environment have never been greater. Society faces the dichotomy of needing safe, wholesome, and affordable food whilst at the same time having to reduce greenhouse gas emissions, protect and increase biodiversity, and regenerate agricultural cropping systems.
Whether you are an innovator, agri-tech SME or company, entrepreneur, university, institute or academic, transforming your new idea or innovation into a tangible reality can often be challenging. There can be regulatory barriers, negativity because your idea does not fit with the perceived wisdom or quite simply, you lack the time or the funds.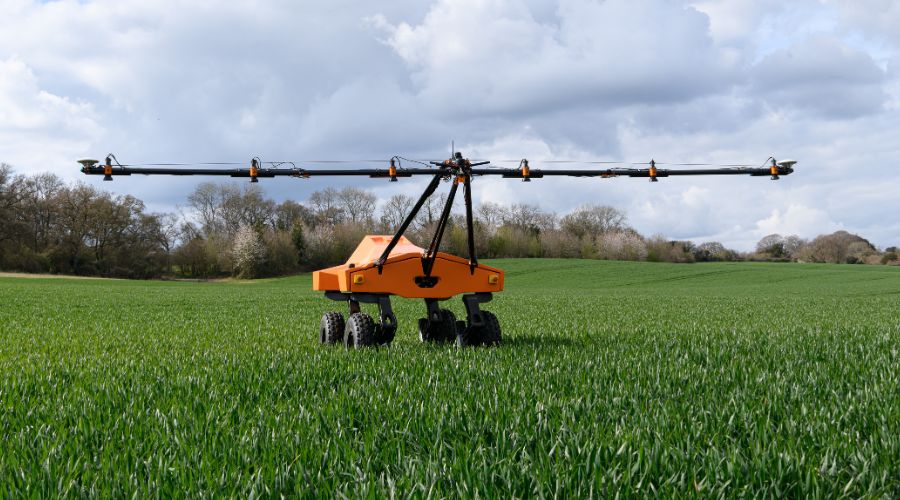 Overcoming the barriers to agritech innovation
Acknowledging these challenges, Crop Health and Protection (CHAP) was established in 2016 following the then UK Government's industrial strategy. A not-for-profit organisation, CHAP has developed and evolved to meet the changing needs of the agriculture sector. As a result of historic capital investment, CHAP now boasts 15 facilities in 10 centres of excellence across the UK with ongoing expansion efforts.
It has never been so important or the need so urgent to explore game-changing ideas and approaches to the ways in which we produce food, manage land and protect environments. Innovation requires that conventional wisdoms are challenged, novel technologies and digital tools are effectively deployed, and intelligent solutions to the most challenging aspects of agritech are developed.
All sectors of the agritech industry must come together to share ideas, foster collaboration and break-down the walls of silo thinking. In addition, we are now witnessing numerous stakeholders outside of the traditional agricultural, horticultural and food sectors contributing ideas, new innovations and forward-thinking approaches to help the industry tackle upcoming and persistent challenges. These may be companies with digital solutions, re-imagined processes for materials or technologies that may be repurposed for new applications.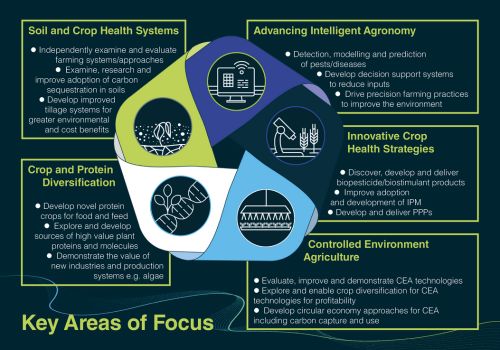 "A significant level of success"
In 2022-23 the order book for CHAP exceeded £1.8 million, with over £6 million for the sector overall. This equated to 57 projects at the peak of business activities, funded both through government and commercial organisations.
These projects generally involve project consortia made up of SMEs, academic and corporate organisations as well as R&D institutes. Projects tend to fall into one of five key areas of focus; soil and crop health systems, crop and protein diversification, advancing intelligent agronomy, innovative crop health strategies and controlled environment agriculture.
Linsey Cresswell, commercial director for CHAP said: "Given the extreme turbulence in the industry over the past year, it was very impressive to achieve such a significant level of success. I believe that this was a result of having an extremely high level of motivation by everyone across the agri-tech network with staff, members, partners and the industry as a whole ready to tackle some of the complex challenges that we face today".
She added "We now have a very resilient model on which to work for the future to capitalise on the current successes and to build a high functioning agri-tech sector".
CHAP's four key pillars
CHAP's success since 2016 is attributable to a flexible and pragmatic approach to industry challenges and to be focused on the needs of the sector, members and partners, it has done this via four key pillars of activity:
Networking – CHAP has am impressive and active membership of agri-tech specialists who collaborate and interact to work on either new or existing projects and business ideas. This helps to drive new and existing networks and enhances project consortia and business development.
Access to funding – The CHAP team provides expert advice and guidance to inform businesses and organisations about funding opportunities, guide them through the bidding process and help manage the project once funded.
Capabilities – It is often challenging for SMEs to fund the equipment or lab space needed to test out new ideas or products, this was why the UK Government supported CHAP and its partners with capital investment at an early stage to develop new capabilities. These centres of excellence are distributed across the UK and can be utilised to support businesses depending on requirements.
Dissemination – Good ideas and agri-tech solutions need to be in the public domain to gain traction, as such, it is vital that the outcome of funded projects results in products, solutions or processes being communicated to and embraced by the industry. Dissemination and knowledge transfer across the CHAP network via social and hard media, through sponsored events and at stakeholder meetings ensures that feedback is achieved for as wide an audience as possible.
CHAP's ongoing focus remains the transformation of agri-tech ideas into practical solutions, aiming to provide solutions which will transform UK and global farming systems sustainably.